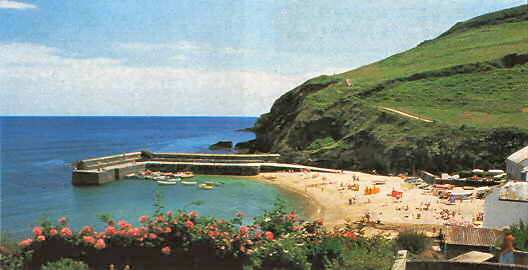 Small picturesque 13th-century village with a safe, sandy beach 3 miles south west of Mevagissey. The village sits in the lee of the spectacular 400-ft high Dodman Point which has traces of an Iron Age fort.
Accommodation holiday cottages bed and breakfast

Holiday Cottages in Gorran Haven and Mevagissey Cornwall
20 local properties. Website with online calendars, booking and weekly discounts. Tel: 01726 842525 email
Caravan and Campsites in and around Gorran Haven
Gorran Haven B&B
Pubs and Hotels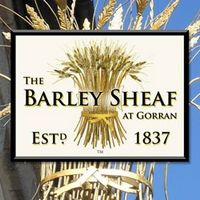 The Llawnroc Hotel, Gorran Haven

The heart of Gorran Haven is a cluster of fishermen's cottages, nestling around a secluded cove which remains much the same as in years gone by. The two village beaches boast golden sand and are amongst the safest in the County, making them ideal for the whole family (including dogs on a lead). The main beach is accessible to all, and all facilities are close by including a large car park. The harbour is sheltered by a stone quay from which angling trips are available and there are visitors moorings for the boating enthusiasts
SHOPS
Cakebreads Shop and Bakery 01726 842048
The Chop Shop, Hairdressers 01726 842324
The Haven Fish 'n Chips 01726 843555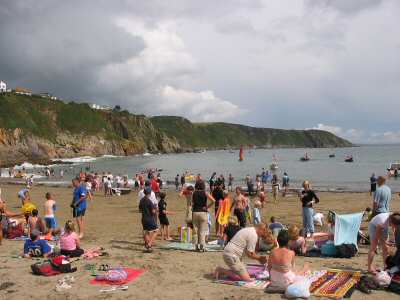 To the south of Gorran Haven is one of the highest land marks along the coast, the Dodman Point, site of an ancient hill fort. Reaching out into the sea and crowned by a huge stone cross, the views of St Austell and Veryan Bay are truly impressive. The Dodman can be reached via the cliff path or from Lamledra and Penare car parks. Vault Beach situated to the east of the Dodman Point offers a mile of silver sand enabling the visitor to enjoy this remarkable unspoilt beach. The coastal footpath from Portmellon to Caerhays is usually done in three stages Portmellon to Gorran Haven, Gorran Haven to Dodman and Dodman to Caerhays. To the west of Gorran Haven visitors will find Caerhays Castle, beach and gardens. Caerhays beach is sheltered with golden sand, beach cafe and ample car parking. The gardens are open, in the spring, to the public and boast a breath taking collection of tropical plants in an idyllic setting.
Among the excellent variety of beaches in the area, Hemmick, reached by going down winding lanes, with its rock pools and sheltered coves, is ideal for those who prefer more seclusion.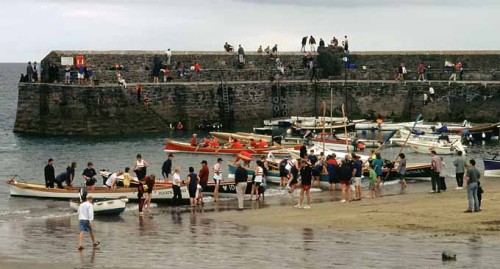 Goran Church Town a mile inland is an unspoilt hamlet, centred around the Parish Church of St Goran which is of Norman origin and is well worth visiting. Within close proximity are some outstanding examples of tropical Cornish Gardens. The Lost Gardens of Heligan, featured on television and recently restored. Lost for many years under mountains of bramble, ivy, rampant laurel and fallen timber, this was truly a "Sleeping beauty". Anyone who was moved by "The Secret Garden" will love Heligan, the most secret garden of them all.
Gorran Haven, St Austell, Cornwall